The Venerable Father Michael J. McGivney was born on August 12, 1852.. He was a Roman Catholic priest and founder of the Knights of Columbus. He was the son of Irish immigrants.
Father McGivney entered Saint-Hyacinthe's Seminary in Saint-Hyacinthe, Quebec, Canada in 1868. He finished his studies at St. Mary's Seminary in Baltimore, Maryland in 1873, but had to leave the seminary and return home to help finish raising his siblings, due to the death of his father. He later returned to the seminary and was ordained a priest on December 22, 1877, by Archbishop James Gibbons at the Basilica of the National Shrine of the Assumption of the Blessed Virgin Mary.
On February 2, 1882, while an assistant pastor at Saint Mary's Church in New Haven, Connecticut, McGivney founded the Knights of Columbus with a small group of parishioners. McGivney died from tuberculosis on the eve of the Assumption, August 14, 1890, when he was only thirty-eight years old. The order now has over 1.7 million member families and thirteen thousand councils. During the 2004-2005 fraternal year, $134 million and 68 million man-hours were donated to charity by the order.
On March 15, 2008 Pope Benedict XVI approved a decree recognizing the heroic virtue of Father Michael J. McGivney, founder of the Knights of Columbus. The pope's declaration significantly advances the priest's process toward sainthood and gives the parish priest the distinction of "Venerable Servant of God." If canonized, Father McGivney would be the first American born priest to be so honored.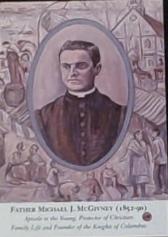 Prayer for the Canonization of Father Michael J. McGivney

God, our Father, protector of the poor and defender of the widow and orphan, you called your priest, Father Michael J. McGivney, to be an apostle of Christian family life and to lead the young to the generous service of their neighbor. Through the example of his life and virtue may we follow your Son, Jesus Christ, more closely, fulfilling his commandment of charity and building up his Body which is the Church. Let the inspiration of your servant prompt us to greater confidence in your love so that we may continue his work of caring for the needy and the outcast. We humbly ask that you glorify your servant Father Michael J. McGivney on earth according to the design of your holy will. Through his intercession, grant the favor I now present (here make your request). Through Christ our Lord. Amen. Our Father, Hail Mary, Glory be.