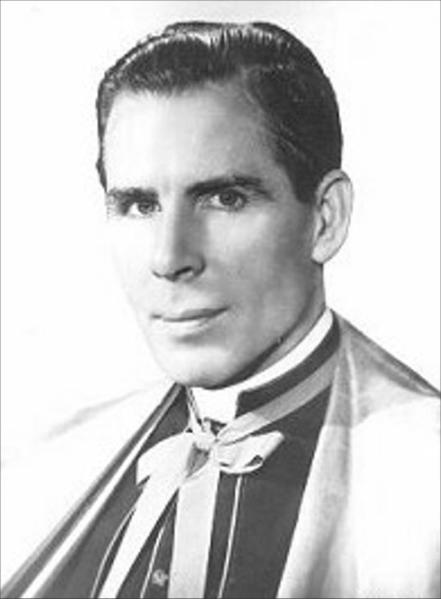 Archbishop Fulton J. Sheen
Servant of God Archbsihop Fulton Sheen was born on 8 May 1900 in El Paso, Illinois, the oldest of four sons of a farmers, Netwon and Delia Fulton Sheen. Though he was known as Fulton, his mother's maiden name, he was baptized as Peter John Sheen. After his baptism, his mother dedicated him to the Blessed Virgin Mary, a dedication he himself renewed at his First Holy Communion. As an infant, Sheen contracted tuberculosis. After the family moved to a farm nearby Peoria, Illinois, Sheen's first role in the Roman Catholic Church was as an altar boy at St. Mary's Cathedral.
After earning high school valedictorian honors at Spalding Institute in Peoria in 1913 staffed by the Brothers of Mary, Sheen was educated at St. Viator College, Bourbonnais, Illinois.
Sheen attended Saint Paul Seminary in Minnesota before his ordination on September 20, 1919, then followed that with further studies at The Catholic University of America in Washington, D.C.. His youthful appearance was still evident on one occasion when a local priest who was unable to celebrate Mass asked Sheen to substitute for him.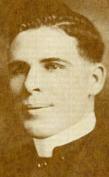 Ordination 1919
Sheen earned a doctorate in philosophy at the Catholic University of Leuven in Belgium in 1923. While there, he became the first American ever to win the Cardinal Mercier award for the best philosophical treatise.
Sheen then taught theology at St. Edmund's College, Ware in England. In 1926, the Bishop of his hometown in Peoria asked him to take over St. Patrick's Parish. After nine months of working in this inner cty parish in Peroia, Sheen returned to Catholic University in Washington, D.C., to teach philosophy. He was to remain there until 1950. He also began local radio broadcasting in the New York area.

A popular instructor, Sheen wrote the first of seventy-three books in 1925, and in 1930 began a weekly Sunday night radio broadcast, The Catholic Hour. Two decades later, the broadcast had a weekly listening audience of four million people. Time magazine referred to him in 1946 as "the golden-voiced Msgr. Fulton J. Sheen, U.S. Catholicism's famed proselytizer" and reported that his radio broadcast received 3,000–6,000 letters weekly from listeners. During the middle of this era, he conducted the first religious service broadcast on the new medium of television, putting in motion a new avenue for his religious pursuits.
In 1934 Sheen became a Very Reverand Monsignor and in 1935 Right Reverend Monsignor.
Sheen become the National Director of the Society for the Propagation of the Faith, supervising 129 diocesan directors throughout the country in 1950. A position he held until 1966.
Sheen was consecrated a Bishop in Rome by Cardinal Piazza in the Church of Saints John & Paul on June 11, 1951. In the Fall of 1951 he began his famous television series entitled, Life is Worth Living. It eventually reached an estimated 30 million viewers each week. He won an Emmy Award for Most Outstanding Television Personality in 1952. His series ran with great success until 1957.

In 1962 Sheen attended all of the Vatican Council sessions in Rome, ending in 1965.
On October 15, 1969, one month after celebrating his 50th anniversary as a priest, Sheen resigned as Bishop of Rochester. As he said, "I am not retiring, only retreading." Sheen was then appointed Archbishop of the Titular See of Newport (Wales) by Pope Paul VI. The largely ceremonial position allowed Sheen to continue his extensive writing. Archbishop Sheen wrote 73 books and numerous articles and columns.
On October 3rd, 1979 the Archbishop experienced one of the greatest moments of his life when Pope John Paul II embraced him in St. Patrick's Cathedral. The Holy Father said to him, "You have written and spoken well of the Lord Jesus. You are a loyal son of the Church!" On December 9th God called the Archbishop from this life to his eternal reward.
Sheen is buried in the crypt of St. Patrick's Cathedral, near the deceased Archbishops of New York. The official repository of Sheen's papers, television programs, and other materials is at St. Bernard's School of Theology and Ministry in Rochester, New York
On September 14th, 2002 the Congregation for the Causes of Saints officially opened the Cause of Archbishop Sheen, and conferred on him the title Servant of God.
On April 15, 2008 The Cause for the Beatification and Canonization of Archbishop Fulton J. Sheen officially opened in Rome with a ceremony at the offices of the Vatican Congregation for the Causes of Saints. If the congregation makes a declaration that Archbishop Sheen lived a life of heroic virtue, he will be accorded the title venerable. The next step is beatification, after which he would be called blessed. Certification of a miracle attributed to his intercession is required for beatification.

Holy Card touched to relic Archbishop Sheen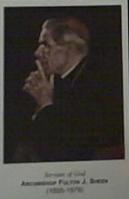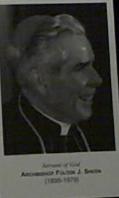 Holy Card touched to relic Archbishop Sheen