Saint Margaret Mary Alacoque, or Saint Marguerite Marie Alacoque, was born in born at Lhautecour, France, 22 July, 1647.
Her parents, Claude Alacoque and Philiberte Lamyn, were distinguished less for temporal possessions than for their virtue, which gave them an honourable position. From early childhood, Margaret was described as showing intense love for the Blessed Sacrament, and as preferring silence and prayer to childhood play. After her First Communion at the age of nine, she practised in secret severe corporal mortification until paralysis confined her to bed for four years. At the end of this period, having made a vow to the Blessed Virgin to consecrate herself to religious life, she was instantly restored to perfect health.
In response to a vision of Christ, crucixfied but alive, that reproached her for forgetfulness of him, claiming his Heart was filled with love for her due to her promise, she entered, when almost 24 years of age, the Visitation Convent at Paray-le-Monial on 25 May 1671, intending to become a nun. She was subjected to many trials to prove the genuineness of her vocation and on 6 November 1672 pronounced her final vows.
In this convent she received several revelations of the Sacred Heart, the first on 27 December 1673, and the final one 18 months later. The visions revealed to her the form of the devotion, the chief features being Holy Communion on the First Friday of each month, the Holy Hour on Thursdays, and the Feast of the Sacred Heart. After Margaret Mary's death, on 17 October 1690, the devotion to the Sacred Heart, fostered by the Jesuits and the subject of controversies within the Church. It was not officially recognized till 75 years after her death.
In March, 1824, Leo XII pronounced her Venerable, and on 18 September, 1864, Pius IX declared her Blessed. When her tomb was canonically opened in July, 1830, two instantaneous cures took place. Her body rests under the altar in the chapel at Paray, and many favours have been obtained by pilgrims. She was canonized by Benedict XV in 1920. Her feast is celebrated on 17 October.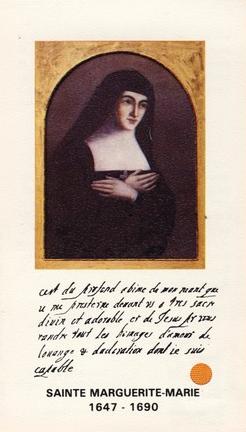 Cloth touched to the bones of Saint Margaret Mary
"And He [Christ] showed me that it was His great desire of being loved by men and of withdrawing them from the path of ruin that made Him form the design of manifesting His Heart to men, with all the treasures of love, of mercy, of grace, of sanctification and salvation which it contains, in order that those who desire to render Him and procure Him all the honour and love possible, might themselves be abundantly enriched with those divine treasures of which His heart is the source."
— from Revelations of Our Lord to St. Mary Margaret Alacoque